[ad_1]

Ford has unveiled the new Heritage Editions of the 2023 Bronco and Bronco Sport, which are inspired by the original Bronco that debuted in 1966.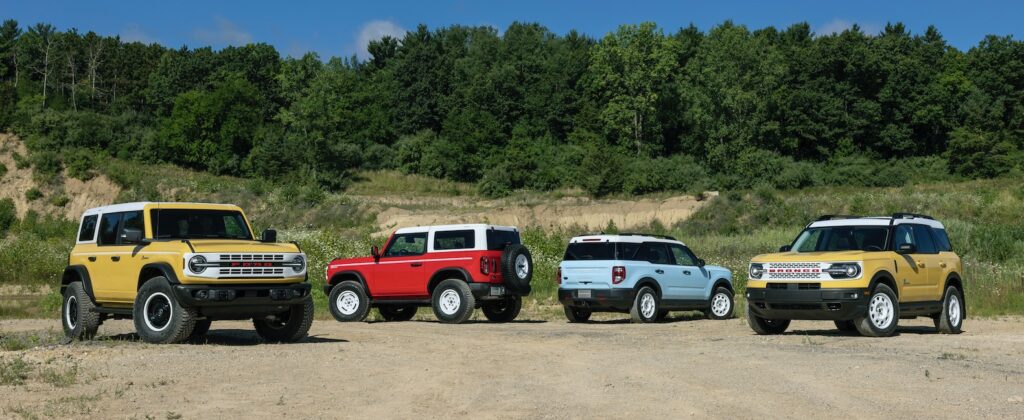 "Bronco captivated America in the mid-'60s with its rugged style and uncompromising off-road agility, a legacy that is still prevalent today," said Mark Grueber, Bronco marketing manager. "With these new Heritage and Heritage Limited editions, we're paying respect to Bronco's roots with nods to some of the signature design cues from the first-generation vehicle, while continuing to build the Bronco Brand with more special editions that our customers want."
The Bronco two- and four-door Heritage models are based on the Big Bend trim and feature a two-tone paint exterior with Oxford White accents. The special Oxford White grille features Race Red "FORD" lettering. It also gets special 17-inch aluminum heritage wheels painted in Oxford White and a bodyside stripe. 1960s inspired squared fenders with Sasquatch-width fender flares have been added and a power-coated steel capable front bumper. Inside, the Bronco Heritage Edition features plaid cloth seats and an Oxford White instrument panel, center console badging and unique front and rear floor liners. The Heritage Edition is powered by a 2.4-liter EcoBoost engine with 300 horsepower and 325 pound-feet of torque.
If you want more power, the Bronco Heritage Limited Edition models are based on the Badlands trim and get the 2.7-liter EcoBoost V6 engine with 330 hp and 415 lb-ft.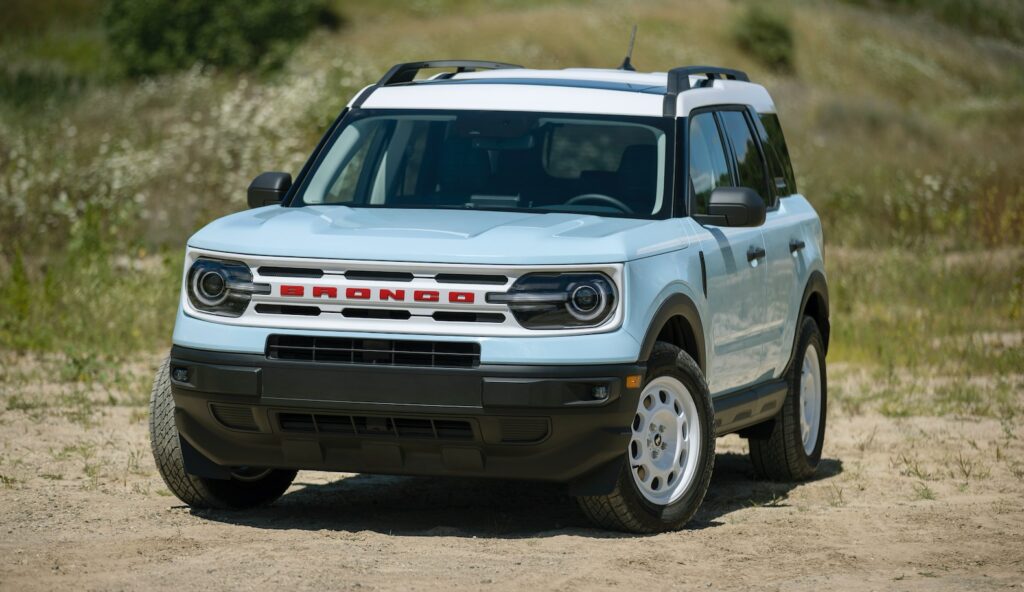 The Bronco Sport also gets Heritage and Heritage Limited Editions with Oxford White accents, a white roof, and a unique Oxford White grille with Race Red "BRONCO" lettering. It also gets Oxford White 17-inch wheels and bodyside stripes. Inside there are plaid cloth seats and a Navy Pier instrument panel with Oxford White accents. The 2023 Bronco Sport Heritage Edition is based on the Big Bend trim and is powered by the 1.5-liter EcoBoost engine with 181 hp and 190 lb-ft.
The Bronco Sport Heritage Limited Edition is based on the Badlands trim and gets the more powerful 2.0-liter EcoBoost engine with 250 hp and 277 lb-ft.
Ford only plans just 1,666 units of each Heritage Limited Edition model. The pricing for the Bronco Sport Heritage Edition starts at $34,245 and the Heritage Limited starts at $44,655. The Bronco Heritage will start at $44,305 and Heritage Limited will be priced at $66,895. 
[ad_2]

Source link