[ad_1]

The 2023 Toyota Camry is anything but boring with its attention-getting looks and its wide powertrain lineup. Like Kleenex or Coke, the Camry is a household name by now. Forget dull Camry sedans of yore, though. The latest model is stylish and fun, even in hybrid form. There's a Camry for just about every want or need, too, at least for shoppers willing to look beyond SUVs. Shop it against the Nissan Altima, Honda Accord, and Mazda 6.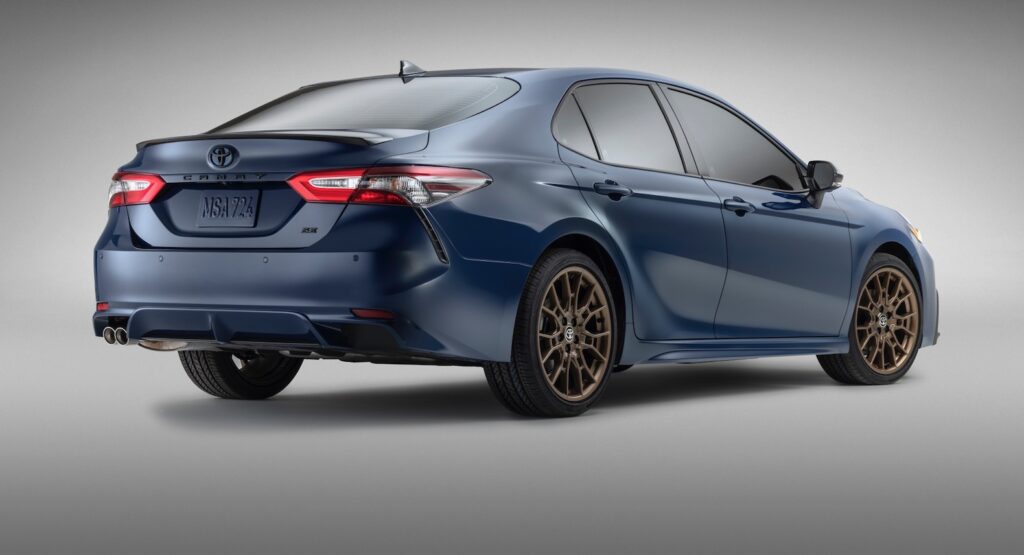 For the 2023 the Nightshade Edition black cosmetic package returns on SE models. A black rear spoiler, black mirror caps and black rimmed lighting complements 19-inch alloy wheels that are bronzed, not darkened. Toyota also updated the standard safety tech on this year's Camry.
The Camry doesn't exactly brim with sophistication, but its styling is interesting and intriguing. A few exterior tweaks last year carry freshness into 2023. The Camry has a long nose and a short trunk that give it rear-drive proportions more in line with European luxury cars. Its detailing is anything but, though, with sharp lines and creases everywhere you look. It's definitely different, and it may work well for you.
The 2023 Toyota Camry prioritizes comfort, but it can thrill in the right configurations. Base Camrys hardly thrill, though their 203-hp engines are paired with an 8-speed automatic gearbox that works well enough to earn it a point for its good ride quality. All-wheel drive can be optioned with the base engine in some trim levels; otherwise, front-wheel drive is standard.
The real fun machine here is a Camry with the optional 301-hp 3.5-liter V-6, which delivers syrupy smooth power accompanied by a lovely muted growl. It's Lexus-level sophistication with Camry pricing. Our money would be on the Camry Hybrid, which delivers 208 hp thanks to its electric motor and battery. The continuously variable automatic transmission (CVT) works effortlessly in the background.
Ride and handling is a tale of three Camrys. LE and XLE versions are old-school soft, though confident. SE and XSE variants turn up the wick a bit with lower ride heights and stiffer suspensions, though they're hardly punishing. The Camry TRD is intriguing with its beefed up suspension, chunky anti-sway bars, and uprated brakes. It's sporty without being overkill, except in the looks department.
Most versions of the 2023 Toyota Camry are tops for fuel economy. Pick a hybrid and that figure would climb, while the V-6 is a bit thirstier. Base 4-cylinder models are rated at 28 mpg city, 39 highway, 32 combined. XLE and XSE versions have bigger wheels and more equipment that makes them a bit heavier, denting figures to 27/38/31 mpg combined. Versions with all-wheel drive lose 3 or 4 mpg from combined and highway figures.
The 2023 Toyota Camry boasts one of the better safety scores on the market. Excellent crash-test scores and lots of standard and available collision-avoidance tech elevate the Camry's safety. The NHTSA rates it five stars overall, while the IIHS awards its highest safety honors with a Top Safety Pick+. Every version includes automatic emergency braking, adaptive cruise control, and active lane control. Optional equipment includes a surround-view camera system and blind-spot monitors.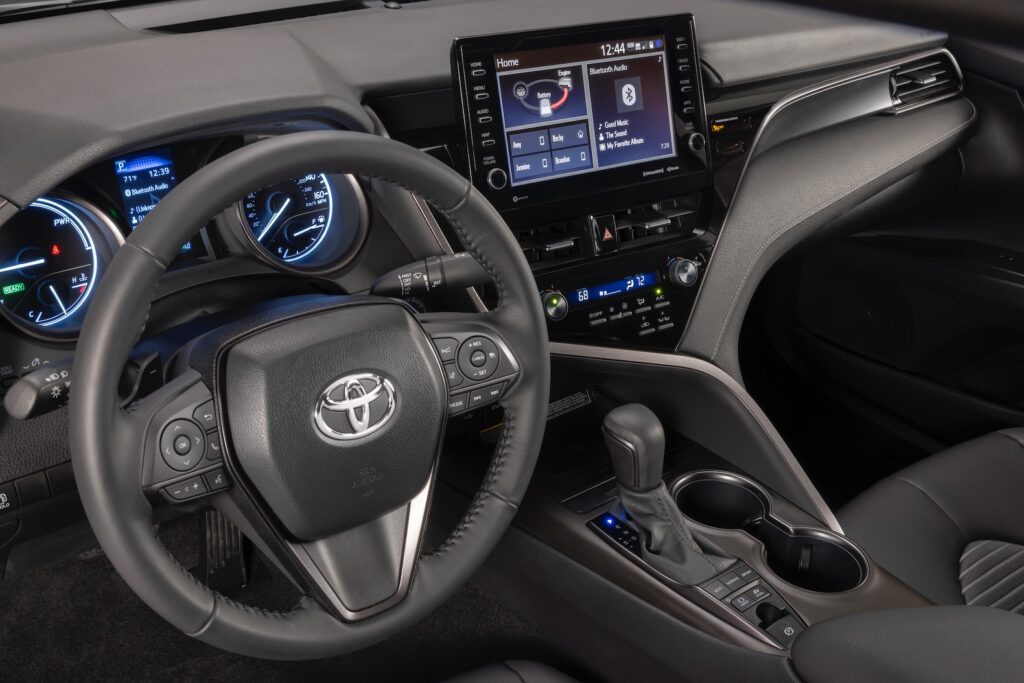 The interior is similarly full-flavored with big panels decked out in either wood-like or metal-like trim. A 9.0-inch touchscreen is mostly standard. Venturing into higher trim levels opens up more interior hues, including brash red accents.
The 2023 Toyota Camry is a comfy road-trip machine. With seating for five passengers, the 2023 Toyota Camry has a spacious cabin with an imaginative design, though it's not perfect inside. It combines above average front-seat room and a decent-size trunk that holds 15.1 cubic feet of stuff, in hybrid or gas models. The rear seat has a low roof line that can leave taller passengers angling for head space, though 38.0 inches of rear leg room is more than many compact crossovers.
Overall, the Camry measures about 192 inches long, which makes it perfectly average by mid-size sedan standards. Front-seat riders have good seats that can be covered in cloth or leather and offer heating and cooling for an extra cost. Interior materials are fine but won't give Lexus a run for its money.
The broad Toyota Camry lineup offers a model for any budget or personality. The Camry comes in a wide range of powertrains and trim levels. Base Camry LE sedans run about $27,000 with cloth seats, LED lighting, active safety tech, and a 7.0-inch touchscreen. The SE tosses in some sporty-looking bits that may sway us, but we'd recommend a Hybrid LE or SE for about $30,000.
Adding X badges creates XSE and XLE trims with power seats for both passengers and uprated JBL audio, plus access to navigation and a sunroof. The 2023 Camry with a V-6 will cost around $35,000, with the XSE model topping the Camry charts at about $37,000. Standard gear includes dual-zone climate control, heated power front seats covered in leather, panoramic sunroof, 19-inch black alloy wheels, and other gloss black trim pieces.
The 2023 Camry is one of the top-selling midsize sedans. The Toyota Camry has set the baseline for family sedans for years and is one of the best of the breed. Toyota has taken years of years of experience and wrapped them into the best version yet for 2023. Combining efficient powertrains, leading safety scores, and great value; the 2023 Toyota Camry is an impressive family sedan for many reasons.
[ad_2]

Source link