[ad_1]

Back in October, Maserati revealed the 2024 GranTurismo, but at the time we only saw photos of the exterior of the new GranTurismo. Now Maserati has released the first photos of the GranTurismo's new interior, which features several digital screens.
In front of the driver there's a 12.2-inch digital instrument cluster and in the center there's an an Android-based 12.3-inch infotainment system that sits about an 8.8-inch screen for the climate control settings. You'll notice that the clock is also digital. The screens show different graphics based on the version you get. For a refresher, the 2024 GranTurismo is available in three versions: Modena, Trofeo and the fully electric Folgore.
Overall the styling of the interior looks sleek with the focal point being the digital screens. The GranTurismo also retains its 2+2 seating configuration. The interior is also available with other tech features, like a head-up display and a Sonos Faber audio system with either 14 or 19 speakers.
The 2024 GranTurismo is powered by the same 3.0-liter Nettuno twin-turbocharged V6 as the MC20. The Modena version has 483 horsepower and 443 pound-feet of torque. An eight-speed automatic and all-wheel drive are standard. The Maserati GranTurismo Modena can accelerate from 0-62 mph in only need 3.9 seconds. The GranTurismo Trofeo has 550 hp and 479 lb-ft. It has a top speed of 199 mph and can accelerate from 0-62 mph in 3.5 seconds.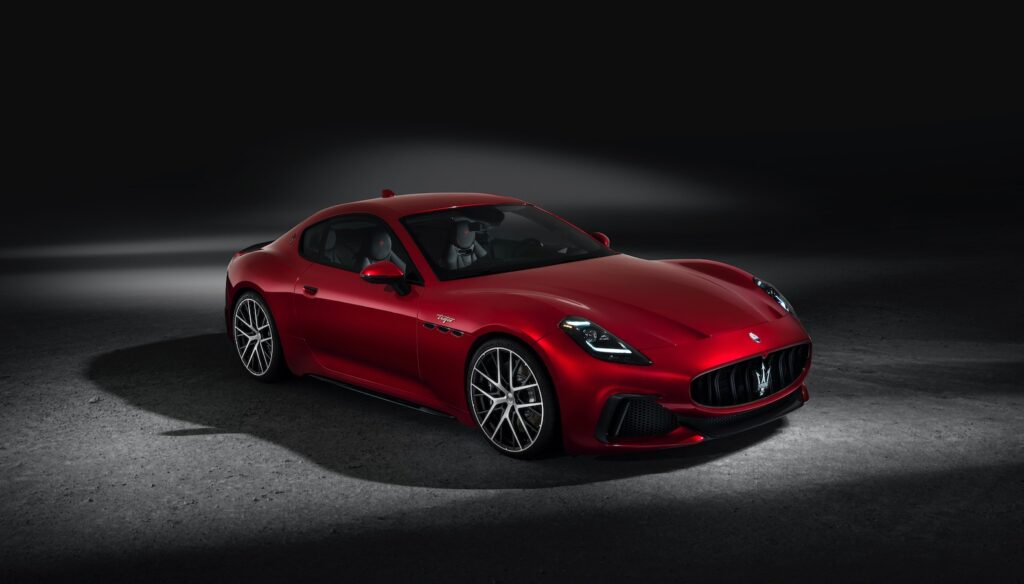 The GranTurismo Folgore is powered by three electric motors, one at the front and two at the rear. The Folgore's electric powertrain has 900 kilowatts of power, which equates to about 1,207 horsepower, but the maximum output is 751 hp and 996 lb-ft. The electric GranTurismo can accelerate to 62 mph in 2.7 seconds.
Deliveries of the 2024 GranTurismo are expected to start later this year.
[ad_2]

Source link