[ad_1]

Last fall Porsche unveiled the off-road ready 911 Dakar and now Porsche has unveiled three special wraps for buyers that are inspired by the past.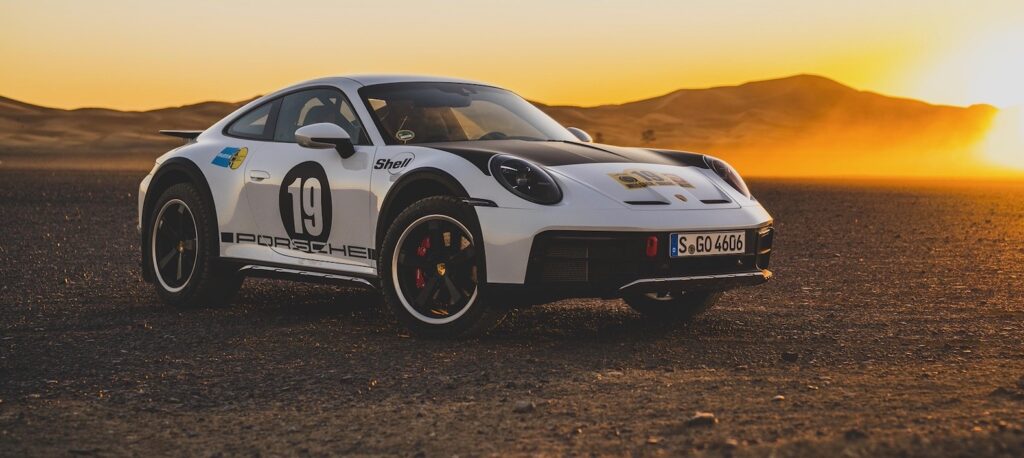 The three wraps recall the look of the 1971, 1974, and 1978 911 rally race cars that competed in the East African Safari Rally.
The 1971 race car was the first time that Porsche entered the rally, with the modified 911 S models standing out with simple black decals on the hood, the front fenders and the doors. The Rallye 1971 decal set for the 911 Dakar recalls those first models and adds the competition number 19, which belonged to the leading 911 in this rally – a car that came fifth in 1971, driven by Polish drivers Sobiesław Zasada and Marian Bień. The decal set can be ordered from the factory as an option for $5,260.
In 1974 Björn Waldegård and Hans Thorszelius piloted a 911 Carrera 2.7 RS, but the duo only came in second due to a damaged wishbone during the race. The Rallye 1974 decal set features blue stripes on the white exterior and the Porsche logo on the lower edges of the doors. It also lists for $5,260.
In 1978 Björn Waldegård returned but due to the treacherous terrain, the 911 SC Group 4 car sustained a significant amount of damage that caused him to finish the race in fourth place, although South African duo of Vic Preston Jr. and John Lyall took second. the 1978 Rally decal set features wave-shaped surfaces in orange and light and dark grey with the competition number 14 on the doors to honor second-placed Vic Preston Jr. The decal set lists for $7,510.
[ad_2]

Source link