[ad_1]

The Porsche 911 is already one of the best vehicles to hit the track in and now Porsche is showing how capable it is, when the road ends. Porsche has announced that it is testing a pair of experimental 911 Carrera 4S cars on the slopes of Ojos del Salado in Chile, the highest volcano in the world.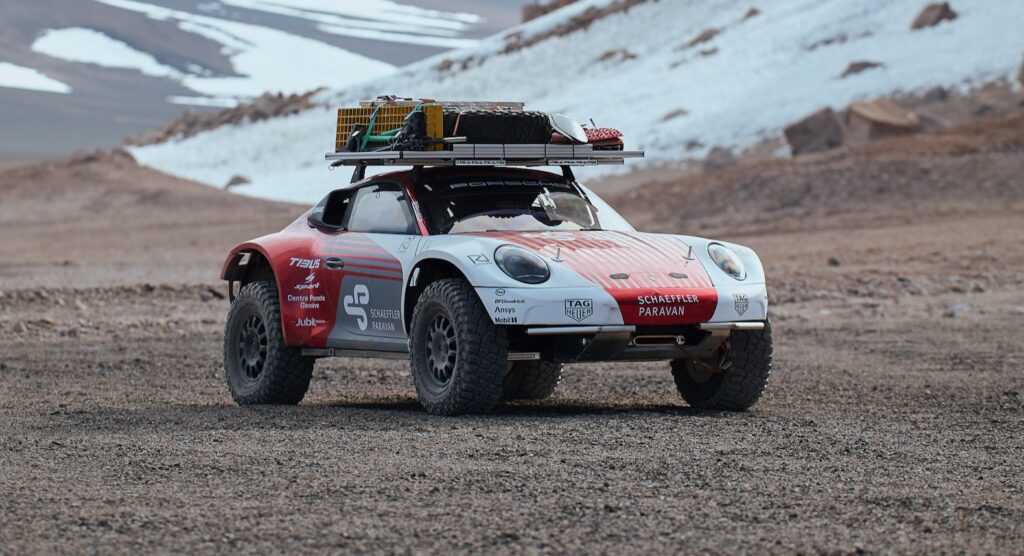 The team was led by endurance racer and adventurer Romain Dumas, who set out to explore the limits of the 911. The team reached elevations of almost 20,000 feet and traveled through areas where the temperature dropped to -22 degrees Fahrenheit. Impassable walls of seasonal snow and ice high up near the summit prevented the team from climbing further.
"This was a truly memorable and special moment in a place that's both beautiful and brutal at the same time – I guess the only machines anywhere in the world higher than us today were aircraft! For the team and the car it was about learning – and right out of the box, the car was tough and nimble. We were hard on ourselves and really put it in the deep end for its first test, yet it felt at home," said Romain Dumas, driver of the 911 and leader of the team. "We have enormous respect for those who have gone higher. No one has seen so much ice and snow up towards the top of the volcano, but despite this we went over 6,000 meters (19,685 feet) up, to the point where the walls of ice and snow meant we could go no further. We're really proud of what the car and the team are capable of first time out – hopefully we can count on many more adventures in the future."
For this adventure, Porsche did not modify the powertrain, so both cars were powered by the same 443 hp turbocharged flat-six and a seven-speed manual transmission that powers the standard Carrera 4S. The two cars were equipped with roll cages, carbon fiber seats and harnesses. To tackle the tough terrain, portal axles were added to increase ground clearance 350 mm (almost 14 inches), off-road tires, and Aramid fiber underbody protection. Both cars also got lower gear ratios to improve the powertrain's responsiveness at low speeds.
Porsche also added a new device called the Porsche Warp-Connecter, which forms "a mechanical link between all four wheels to allow constant wheel load even when the chassis is enduring extreme articulation – contributing to maximum traction." Lastly manual, switchable differential locks were used along with a steer-by-wire system.
[ad_2]

Source link