[ad_1]

After several teasers, Ram has finally given us our first look at its upcoming full-size electric pickup with the debut of the Ram 1500 Revolution concept. The Ram 1500 Revolution is a direct rival to the Chevy Silverado EV, GMC Sierra EV and Ford F-150 Lightning.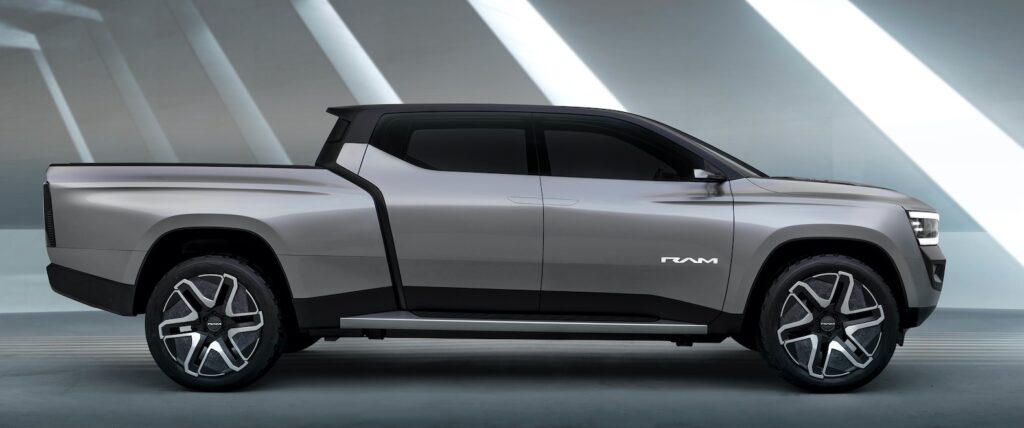 Ram is taking a similar path as GM did with its electric trucks, since they do not share anything with the internal combustion versions. That means that the 1500 Revolution is based on a new platform, called the STLA Frame, which has been designed for EVs from the start. The 1500 Revolution feature's a body-on-frame layout with the battery mounted between the frame rails.
It's powered by two electric motors, one at the front and one at the rear. Since the 1500 Revolution doesn't need room for a big engine under the hood, the cab has been moved forward. Ram says that the cab is four-inches longer than the crew cab 1500. On the outside the 1500 Revolution ditches the semi-truck look that we've come to expect from a Ram truck. Overall the exterior has a sleeker look and at the front there's an animated RAM badge and "turning fork" design elements in the grille and lights. Those sculpted, bulging fenders allow for 35-inch tires.
Ram has not announced the range and power specs, but the 1500 Revolution features 800-volt electric architecture that will allow up to 350 kW DC fast charging. Up to 100 miles of range can be added in only 10 minutes. An extended-range hybrid model is also planned, but Ram has not released any details.
The concept features rear hinged doors that provide access to a roomy interior. What's the big stand out here is that Ram fount room for an additional third row of seats. There are jump seats behind the rear row that are mounted to the mid-gate.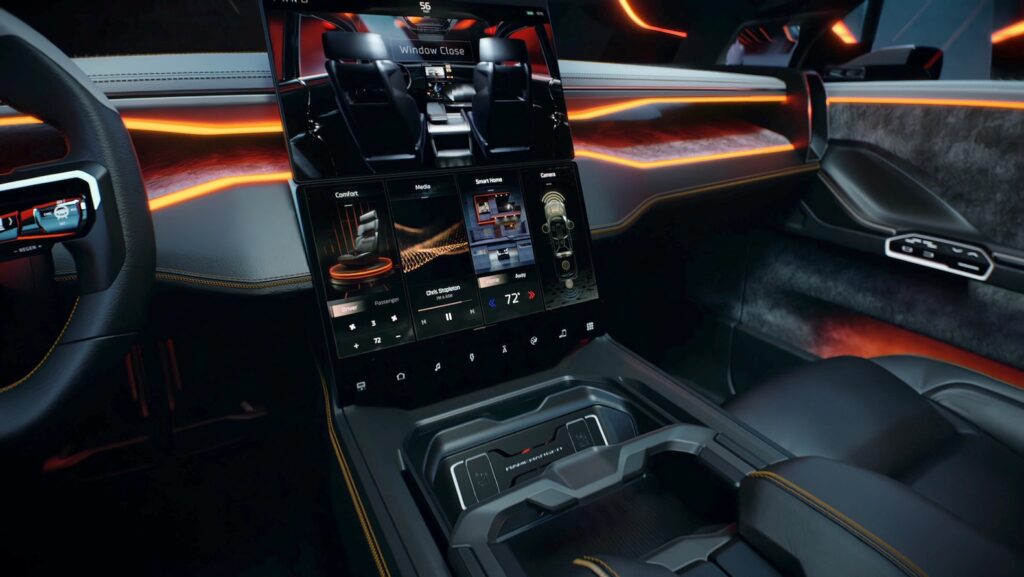 At the front there are two 14.2-inch screens. The lower one is able to extend or be removed. There's also an augmented reality head-up display and the steering wheel can retract in autonomous mode. Biometric cameras can recognize who is driving and make sure all the settings are set the way that driver prefers.
Sustainability is a big focus with leather that is made from apple byproducts and the floor that is made from recycled cork and rubber.
The production version of the Ram 1500 Revolution concept is going to go on sale in 2024, most likely as a 2025 model. It will officially debut later this year.
[ad_2]

Source link