[ad_1]
The EPA has finished its testing of the 2023 Hyundai Ioniq 6 electric sedan and the good news is that the latest Hyundai EV has a driving range up to 361 miles on a single charge.
Not all versions have that range, since only the single motor Ioniq 6 SE Long Range RWD trim has the 361 mile rating, while the Ioniq 6 SE AWD has an EPA-estimated range of 316 miles and the Ioniq 6 Limited AWD has a range of 270 miles.
The EPA has also confirmed a 140 combined MPGe rating for the IONIQ 6 SE RWD Long Range, which matches the MPGe rating of two Lucid Air models, putting the Ioniq 6 at the top of the EPA's Top Ten vehicles list.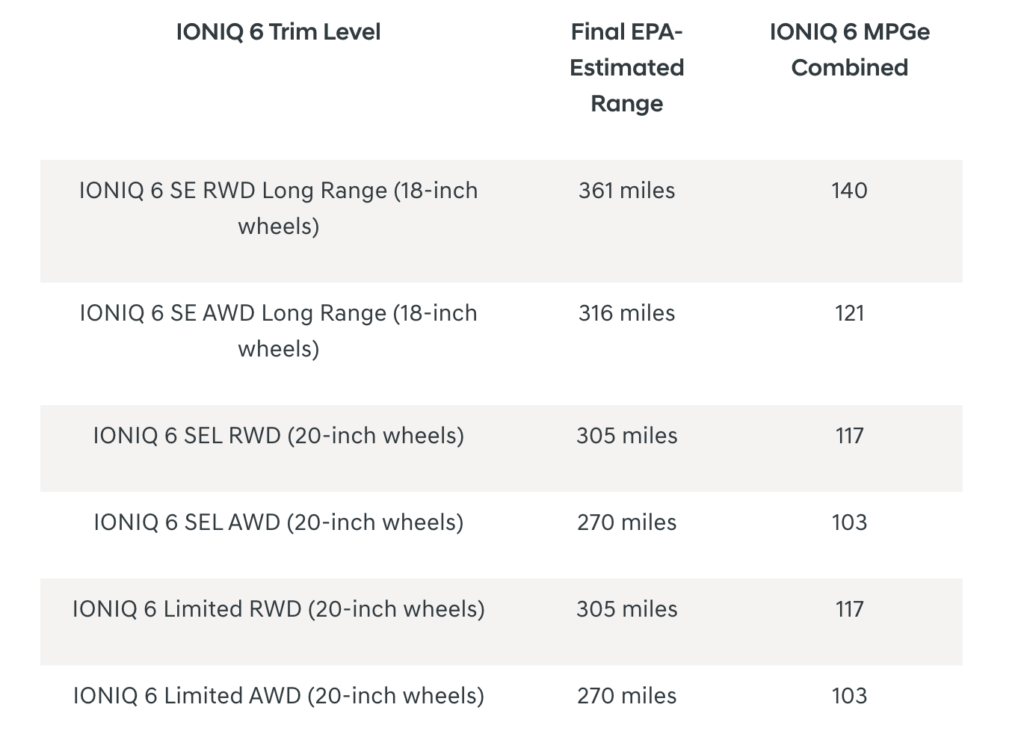 Part of the reason why the Ioniq 6 has a longer driving range than most EVs, is because Hyundai not only focused on battery size, but also efficiency. The Ioniq 6 has a very low drag coefficient of 0.22 thanks to its low nose, active air flaps, wheel gap reducers, elliptical wing-inspired spoiler with winglet, slight boattail structure, separation traps on both sides of the rear bumper, full underbody cover, deflectors and reduced wheel-arch gaps.
Hyundai has not announced the pricing for the 2023 Ioniq 6, but it will arrive this spring.
[ad_2]